Roy Richard Grinker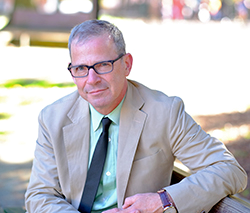 Roy Richard Grinker
Professor of Anthropology and International Affairs, George Washington University
---
Contact:
Research Focus
Dr. Grinker is an expert on autism, mental illness and psychological anthropology in children. He completed the first-ever epidemiological study of autism spectrum disorder in South Korea and is the author of many publications, including "Unstrange Minds: Remapping the World of Autism."
---
Autism
Psychological and psychiatric anthropology
Ethnicity and nationalism
Gender
Symbolic anthropology
Hunter-gatherers
Regional foci: Africa, Korea
Anth 0801: Autism across Cultures
Anth 1002: Introduction to Sociocultural Anthropology
Anth 3503: Psychological Anthropology
Anth 3506: Politics, Ethnicity, and Nationalism
Anth 3708: Cultures of Africa
Anth 6201: Proseminar in Sociocultural Anthropology
Anth 6391: National Mythologies
Anth 6507: Nationalism and Ethnicity
Books
2010  Grinker, R., S. Lubkemann, and C.B. Steiner, eds. Perspectives on Africa: A Reader in Culture, History and Representation. 2nd ed. Oxford: Wiley-Blackwell.
2007  Grinker, R. Unstrange Minds: Remapping the World of Autism. NY: Basic Books.
2000  Grinker, R. In the Arms of Africa: The Life of Colin M. Turnbull. Chicago: University of Chicago Press.
1998  Grinker, R. Korea and its Futures: Unification and the Unfinished War. NY: St. Martin's Press.
1994  Grinker, R. Houses in the Rainforest: Ethnicity and Inequality among Farmers and Foragers in Central Africa. Los Angeles: University of California Press.
Articles and Book Chapters
2016  Grinker, R.R.  "What in the world is autism? A cross-cultural perspective." Reprint of "What in the world is autism?: A cross-cultural perspective," Zero to Three: Journal of the National Center for Infants and Toddlers 28(4):5-10. In Peter Brown and Svea Closser, eds., Understanding and Applying Medical Anthropology, 3rd ed., 311-19.
2013 Grinker, Roy R. and Kyungjin Cho. "Border Children: Interpreting Autism Spectrum Disorder in South Korea," Ethos 41(1): 46-74.
2012  Grinker, R.R., T. Daley, and D. Mandell. "Culture and Autism." In Fred Volkmar, ed., Encyclopaedia of Autism Spectrum Disorders. NY: Springer Verlag.
2012  Grinker, R.R., et al. "'Communities' in Community Engagement: Lessons Learned from Autism Research in South Africa and South Korea," Autism Research 5(3): 201-210.
2011  Kim, Y.S., B. Leventhal, Y-J Koh, E. Fombonne, E. Laska, E-C Lim, K-A Chun, S-J Kim, Y-K Kim, H-J Lee, D-H Song, and R.R. Grinker."Prevalence of autism spectrum disorders in a total population sample," American Journal of Psychiatry. 168(90):  904-912. Published online, May 9, 2011. [Nature 2011 Editor's Choice Selection].
2011  Grinker, R.R., M. Yeargin-Allsopp, and C. Doyle. "ASD and Culture: International Trends in Prevalence and Diagnosis." In D. Amaral, D. Geschwind, and G. Dawson, eds. Autism Spectrum Disorders (Oxford: Oxford University Press).
2010  Grinker, R.R. "The five lives of the psychiatry manual," Nature 468 (11): 168-170.
2010  Grinker, R.R. "The contribution of social science to understanding and appreciating autism." In Autism through the Lens of the Social Sciences. Papers from a conference held at the University of Chicago, April 3-4, 2008, p. 7-16. Online at www.easterseals.com.
2010  "On being autistic, and social." Ethos (Journal of the Society for Psychological Anthropology, AAA) 38(1): 172-178.
Ph.D. 1989, Harvard University
M.A. 1985, Harvard University
B.A. 1983, Grinnell College